Enjoy the fantastic winter scenery while keeping effective protection against cold. rain. and snow.
These superb. tough. and durable boots are perfect for protecting yourself from cold weather whilemaintaining an unrivaled elegance.Easy to style with everything in your closet. these super adorable boots protect you from the snow and cold all season long. They are great indoors and outdoors.You can easily adjust for comfort no matter how many pairs of socks you wearing and they're available in all your favorite colors.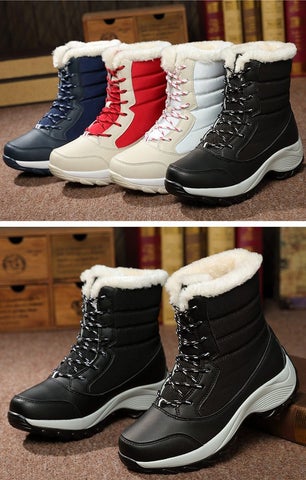 Ultra-Wear Resistant.Non-Slip.Resilient. andShockproof. These boots areperfect for long time's walking.
WATER REPELLENCY

: The vamp is made by best-in-class leather and soft waterproof fabric that keeps out any liquids. delivering a delicate touch. thus the shoes bring the wearer the utmost dry experience as a perfect weapon for the cold winter.
NON-SLIP PROTECTION: Detailed with thick but lightweight outsole crafted from polyurethane for added softness. flexible folding performance. and shock absorption. along with elastic construction built in the middle of insole for better support and balance. the boot perfectly adapts to any road condition. cushioning every step you take.
Warm Ling: Our shoes lining use the fine artificial short plush. completely wrapped your feet. not easy to fall off. and warmer
Fits true to size.
Our Guarantee
We sincerely believe that our products are among the best in the world. That's why we offer you a 30-dayrisk-freewarranty.We havea Quality Control departmentwhich helps us to keep our promise!
If you wish to return your product. no worries. we will grant you astress-freerefund.